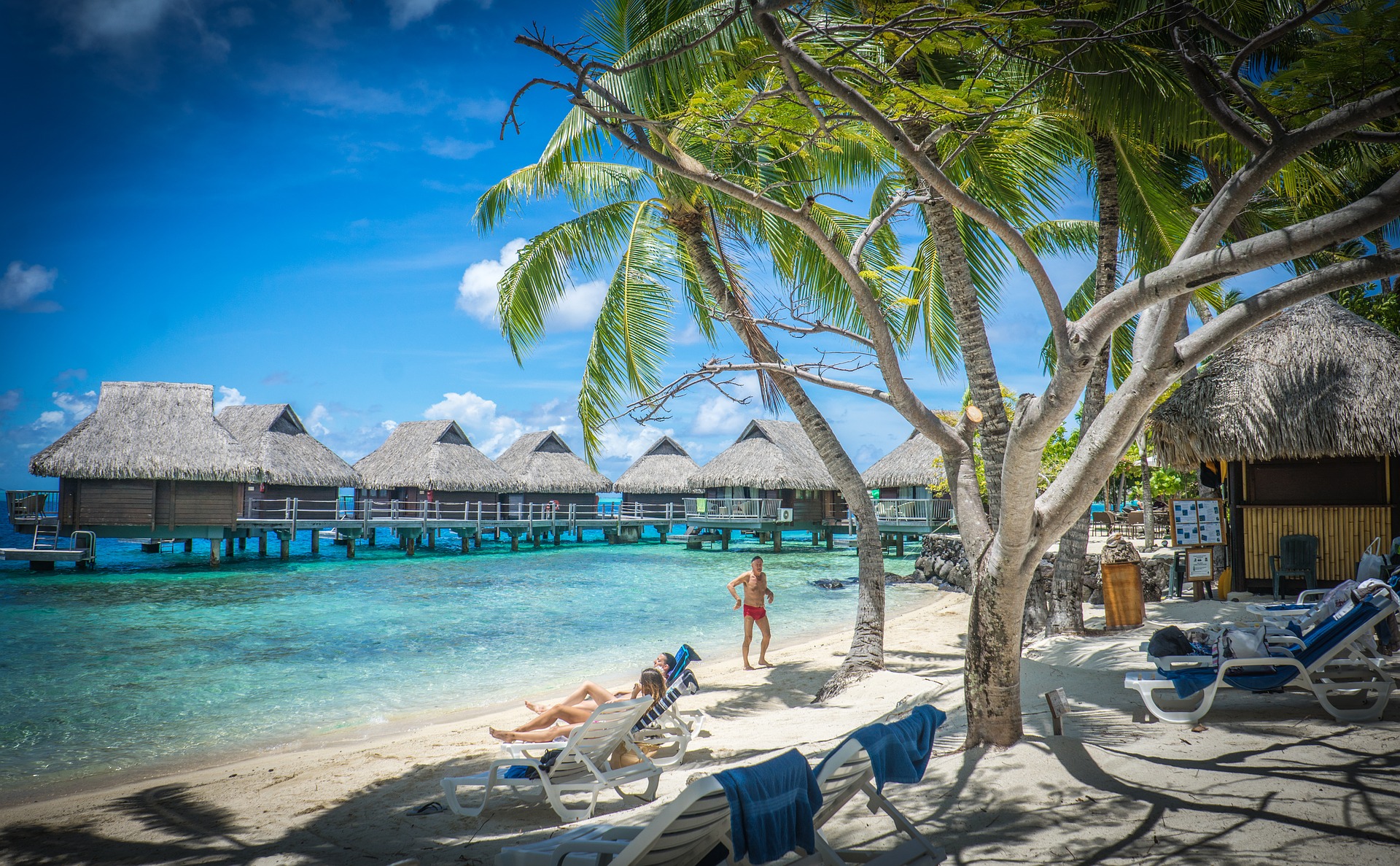 Lagoon Paradise
There are many reasons why couples fly off to Bora Bora for their honeymoon, anniversary, or romantic getaway. Rising from the seas in the heart of the South Pacific, Bora Bora is the jewel of French Polynesia. It is the home of the most beautiful lagoons in the world, not to mention fabulous turquoise waters, sandy beaches, and charming private bungalows.
Surprisingly, this small island is rarely crowded, which is convenient for couple of getaways. Even during peak seasons, the island never feels crowded, especially if you choose to stay in a private overwater bungalow. This is the most iconic form of accommodation on the island as it is luxurious and scenic, popular for honeymoons, and anniversary celebrations.
Snorkeling and Diving
Wake up to a sunny crystal blue view from your villa as the horizon gently blends into the Pacific Ocean. Snorkeling and scuba diving in Bora Bora is a must for anyone who loves marine life and thrilling adventure. The underwater part of the island is home to some of the biggest manta rays known to man. You will also see moray eels, many kinds of tropical fish, eagle rays, and stingrays. If you are lucky, you will also encounter small reef sharks that tend to be shy of humans.
Walking in the Green
Blue is the predominant color of this island. Still, the green will steal your attention as soon as you choose to explore this tropical paradise. The island's interior is full of lush vegetation with different shades of green. Whether you decide to walk, take a scooter, or ride through the island, you will enjoy breathtaking foliage that sets a relaxed ambiance. It is a dream come true for nature lovers. The hibiscus bloom down in the valley creates an enchanting landscape that is as peaceful as it is beautiful. Best of all, there are no dangerous animals or insects to cut your stroll short.
Water Sports
For adrenaline chasers, Bora Bora offers thrilling water sports. Whether you want to explore one of the many lagoons or need to experience something stimulating, you are spoilt for choice. You can choose from a variety of transportation methods that also double as water sports. Jet-skis, paddleboards, outrigger canoes, sailboats, catamarans, and glass submarines are in plenty for the thrill-seekers. Furthermore, once you get past the coral reef, you can take a hand at big game fishing and deep water diving.
Stunning Views
Finally, your trip to Bora Bora should end with relaxing by the coastline, enjoying a view of the charming lagoons. The island is mostly sheltered from the sea, and so the water is shallow in many places. You can take a walk in these places and let the relaxing sounds of water and gentle breezes lull you into love with the island. With a proper view, you will be able to see incredible color variations between the turquoise shallow and dark blue deeper water. When reserving a private bungalow, aim for the one with an unobstructed view of Mount Otemanu. It is a majestic rise that will take our breath away each time you view it.